Scorpions in Gilbert AZ
Family Owned Pest Control Company Servicing Gilbert, Arizona Since 1993
Scorpions in Gilbert AZ
There are areas in Gilbert Arizona that has it's share of pest problems and scorpions. Some neighborhoods have ongoing issues with Scorpions, while a neighborhood a block away may never see a Scorpion.
Scorpions generally hunt at night and use their stinger to paralyze prey. However, if the scorpion is strong enough to overpower its prey, instead of injecting its venom, it will simply hold the prey and eat it alive. This conserves venom, which can take up to 2 weeks to regenerate, during which time the scorpion's main defense is inactive.
Outdoors during the day, scorpions hide in burrows or debris, under wood, stones, or tree bark, and under floors of buildings in crawl spaces. Indoors scorpions may be found in cracks and crevices of woodwork, behind baseboards, in closets and attics, and inside walls. Scorpions gain entry into buildings through poorly sealed doors and windows, cracks in foundations, attic vents that are not properly screened, and through plumbing and other openings.
Find out more on how scorpions get inside homes and businesses.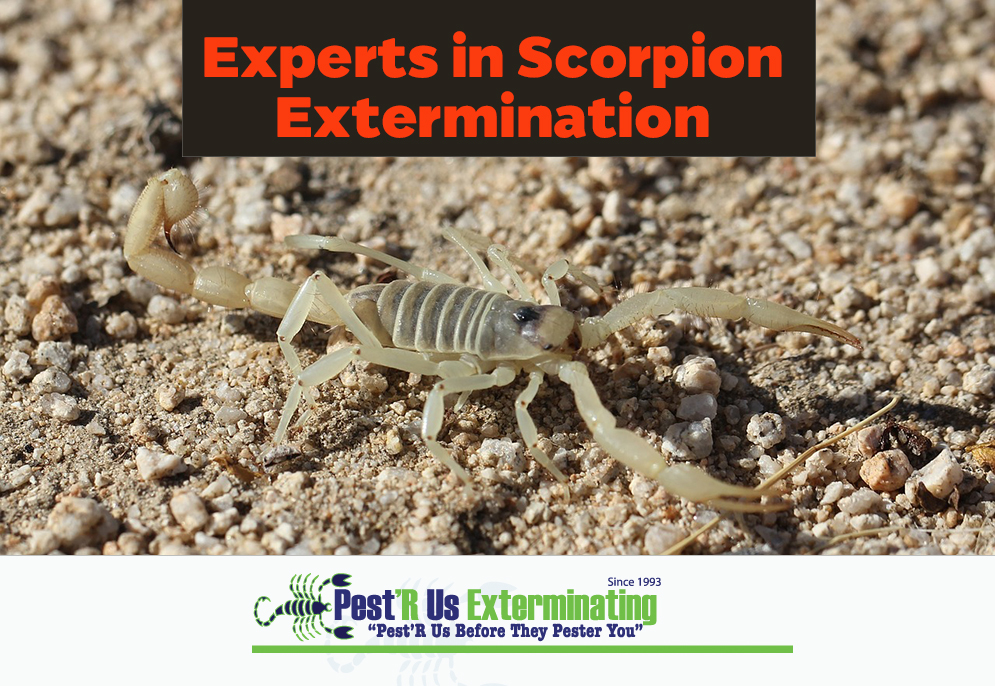 Pest'R Us is a qualified and licensed pest control company with over 20 years experience and expertise to rid your home or commercial business of pest infestations and protect your property from pest threats while maintaining your quality of life. Don't wait for the problem to multiply!
Roaches in Your Home
Short of taking a power washer to the inside of your home to literally "blast" creepy cockroaches out of their hiding places, learn a few things you can do to get rid of cockroaches and prevent them from coming back once you have the situation under control.
Biting Ants
Biting ants are common in Arizona and the greener neighborhoods in Gilbert. You may see them in your lawn (after they bite you!) or notice mounds which start small and gradually grow bigger. Though small, these ants have a strong bite. Find out how to get rid of ants.
Bed Bugs in your Gilbert Home – How to know if they are in your house and bed – don't take any chances on an infestation. Find out more here.
Give Pest'R Us a call at 480.598.9898 for all your pest needs. We at Pest'R Us look high and low, where they breed and where they go.