News and Events
Pest R' Us Introduction for Eric Papadeas on Plenty More Love Radio Show with Rhonda Towns
September 2014
This month, we are excited to have as our special guest Eric Papadeas, owner of Pest'R Us Exterminating out of Tempe. How might that be exciting you may ask? For most people, imagining a pest control guest as a guest on a talk show might not be your average guest. Well, Eric isn't your average pest control professional, as you will soon learn.
Eric's company, Pest'R Us Exterminating takes care of scorpions, ants, crickets, roaches, and other uninvited guests for residential and commercial accounts, but it's how Eric Papadeas takes care of his clients that really makes the difference. Known among all of his friends for his wit and humor, Eric never meets a stranger, and is a compassionate person who gives back not only to the community, but to his pest control clients as well. For instance, when a client has a baby he's likely to bring a gift. For Eric, it's all about karma – what goes around comes around, and giving is the most important thing in the world.
We're excited about Eric's visit to the Rhonda Towns radio show, and we look forward to the pest control tips he will share with us and a little education regarding those pesky pests.

Read more here
---
Anniversary Celebration
20 Years in Business!
April 29th 2013
Thank you to everyone who came out and celebrated with us on April 29th 2013. We had a great time at Sleepy Dog Brewery.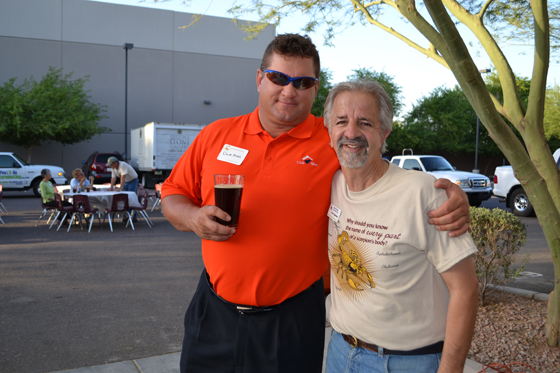 Our clients enjoyed all the extras! Food, fun, t-shirts and more.